AI career coaching tools are reshaping the road to professional growth. They're making actionable career advice and impactful support available to everyone—no matter where they're at in their career or how much they can afford to spend on coaching sessions.
From digital assistants to job search bots, there are all kinds of AI career coaching tools that can help you maximize your potential and reach your goals. So, join Prentus as we spotlight five of the top AI coaching tools for all kinds of employees and jobseekers.
Let's get started.
What is an AI career coach?
An AI career coach is a tool that offers actionable career advice using artificial intelligence (AI) technology rather than costly human-led coaching sessions.
These tools use data, analytics, and natural language processing (NLP) to provide personalized advice tailored to each user's unique situation and goals. They can offer guidance on how to do a successful job search, build a professional profile, find the right job opportunities, optimize resumes and cover letters for specific roles, or even help you prepare for interviews.
An example? Check out Prentus's AI mock interview feature.
This powerful feature uses AI to automatically generate interview questions based on the job role and industry. It also provides feedback on your answers, so you can practice preparing for interviews with confidence.
Benefits of using AI coaching tools
Personalized career insights
AI coaching tools analyze your professional background, skills, and goals to deliver custom-fit advice. This customization ensures the guidance is tailored to your career path—ideal for career changers.
Available 24/7
Unlike traditional coaches with limited hours, AI platforms offer career insights that are accessible 24/7. This flexibility fits perfectly into busy schedules—no need for appointments or traveling.
Data-driven decisions
AI tools process vast amounts of data, from market trends to individual performance metrics. Many platforms store essential information and adapt to your preferences—producing more precise and error-free insights.
Cost-effectiveness
AI coaching offers a budget-friendly alternative to traditional services, which can cost anywhere from $75 to $150 per hour. Its scalability allows for high-quality coaching at a much lower cost.
Criteria to keep in mind when choosing an AI career coach
With so many options available, choosing the right AI career coaching tool can seem overwhelming.
To help with your search, look out for these key points:
5 Best AI career coaching platforms
We've carefully broken down the key features, possible downsides, and pricing of each AI career coaching tool to help you make the best choice for your career growth.
Here's a quick overview of the platforms we'll be covering: 
Now, let's dive into the list:
1. Prentus
Prentus is your all-inclusive AI career coaching platform, seamlessly integrating a suite of job search tools. From job tracking to resume building, it serves as a one-stop destination for your career needs. Plus, we ensure you stay up-to-date with the latest AI advancements, including adaptive AI recommendations.
Key features
Pricing
Prentus has a free plan that lets you track 25 jobs and access both our active community and job search resources base. You can also join us for weekly career coaching sessions.
Our Plus plan ($7/month) provides advanced tools like unlimited tracked jobs, daily job match alerts, and a task planner. Our Pro plan ($15/month) is where you'll find our AI features—it includes unlimited AI coaching, AI mock interviews, AI resume building, AI cover letter generation, and more.
We also offer a 7-day free trial for our Plus and Pro plans.
Pros and cons
Pros and cons taken from Trustpilot.
Pros
Cons
2. Kickresume
Kickresume offers jobseekers a suite of tools (many AI-powered) designed to make job-hunting easier.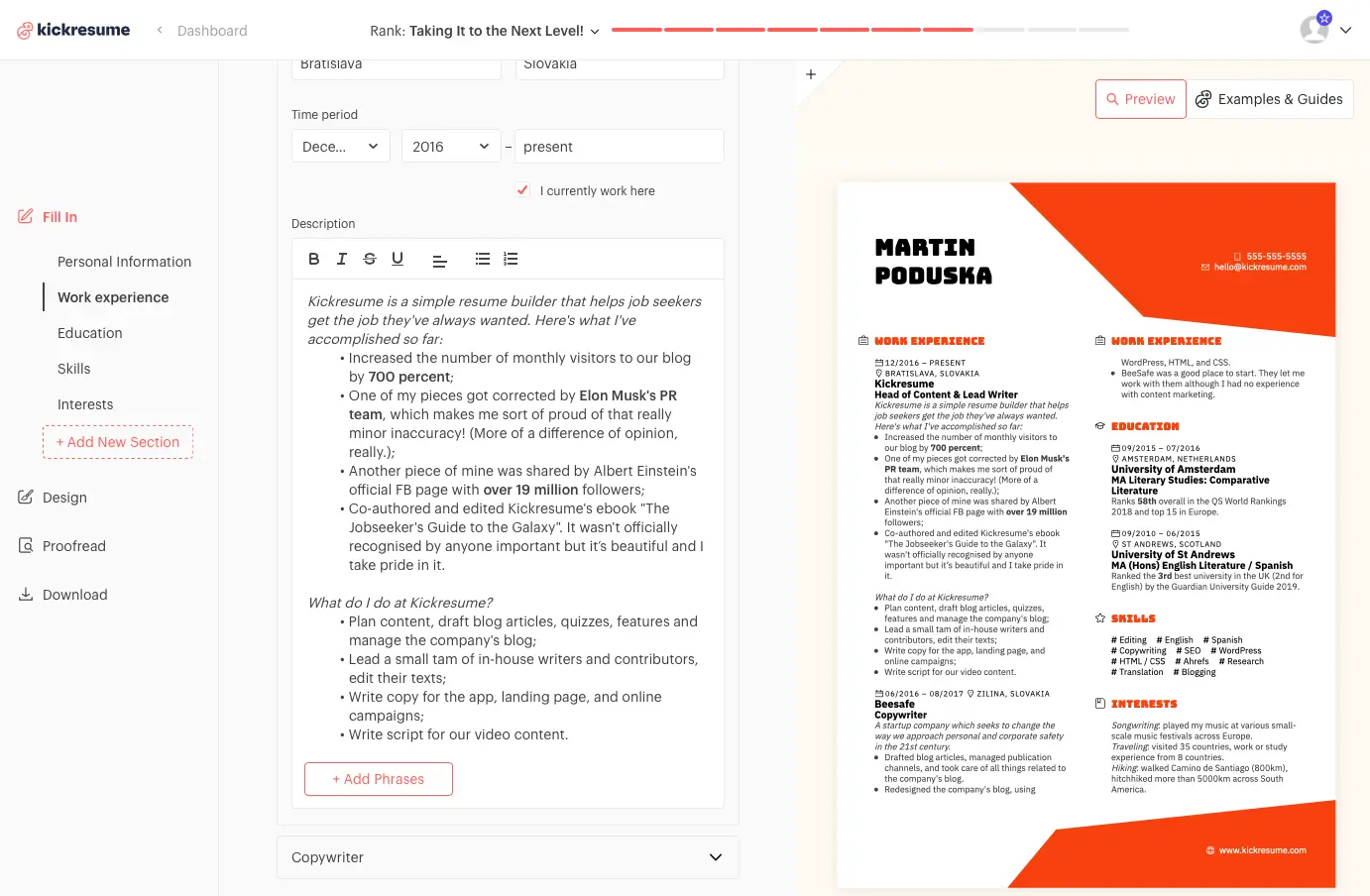 You can use Kickresume to generate (and check) AI resumes, cover letters, and resignation letters, or build websites that highlight your career and skills. Along with this suite of tools, Kickresume also provides job search feature for remote jobs in tech.
Key features
Pricing
Kickresume offers a free plan, but it doesn't include any AI features.
The paid plan is available in monthly (Є19/month), quarterly (Є12/month), and yearly (Є6/month) payment schedules. All paid plans include all of Kickresume's features.
Pros and cons
Pros and cons from Trustpilot.
Pros
Cons
3. Jobiri
Jobiri is an "intelligent digital career counselor" that helps jobseekers find and apply for open positions.
Jobiri provides essential tools like job aggregation and matching, resume and letter builders, and interview simulators with feedback generated by machine learning (ML) algorithms and input from human recruiters.
Key features
Pricing
Jobiri offers a free Starter plan with limited access to AI features.
Premium (€9.99 for 12 weeks) raises those limits quite a bit and includes a money-back guarantee within seven days and an extension of 12 weeks if you don't land a job.
Pros and cons
Pros and cons from Trustpilot.
Pros
Cons
4. Coach
Coach is an AI career coach from the company behind CareerVillage.org—a free online Q&A platform for students and professionals.
Coach is currently in a closed beta testing round, but planned features include a chat feature where you can ask questions and get answers from a virtual career coach anytime and anywhere, as well as tools for specific tasks (like preparing for interviews, writing resumes, and more).
Key features
Pricing
Pricing may change by launch, but CareerVillage.org intends to make Coach free for individual users with a TBD license fee for schools and education institutions.
Pros and cons
Pros
Cons
5. Sherlock
Sherlock (or SherlockSuperCoach.AI™) is a bit different than the other tools on this list. It isn't aimed solely at jobseekers, but at anyone looking to excel in their careers.

Designed for Gen Z and Millennial employees, Sherlock is an AI coach that learns about the user's career goals, personality, and circumstances through conversations and assessments. It then offers personalized advice based on the teachings of experienced career coaches.
Key features
Pricing
For pricing information, contact SherlockSuperCoach.AI™ directly.
Pros and cons
Pros
Cons
Fine-tune your career path with Prentus
As we can see, AI career coaching platforms offer personalized insights, 24/7 accessibility, data-driven guidance, and cost-effectiveness. They're the ideal tool for ambitious professionals looking to take the next step.
From AI resume building to personalized coaching, Prentus offers a comprehensive solution to boost your career. With a focus on goal customization, job tracking, and mock interviews, Prentus is the future of career coaching.
Sign up for free today and maximize your potential.
Rod Danan is Founder & CEO of Prentus. He has built digital products before using software developers and learned what to look for in candidates. Feel free to email him at [email protected] with questions.