Welcome to the Prentus monthly changelog! I'll be posting these at the beginning of each month with updates on what we launched the month before.
September was productive. There were tons of little improvements to various parts of our careers platform. Even made a few touch ups to make things look pretty.
On a side note, we are working on our one-liner. Thinking about "Prentus is the gamified, community-powered careers platform for modern schools." Might need some work but covers main points for now.

Anyway, here's a breakdown of what we added to our platform in Septembers:
Events
Students see 100s of events across the internet each week. That's why when you share a demo day or helpful talk, it's hard to get your job seekers there.
With Prentus, schools can now create and share events in the community event stream. Host live resume reviews for your internal community or public Demo Days you can share with employers too. Some features include:
Share unique links for each event internally or, if the event is public, online (here's an example)
Create recurring events for things like stand ups
Tag your events so people can easily find what's relevant
Earn points every time your event is added to someone's calendar
Will try to integrate all events with Google Calendar some time during Q4.
Calendar
Speaking of calendars, knowing what's coming up next helps job seekers stay on track. Our new Calendar features gives them one place that shows interviews from their Job Tracker, interview from hiring partners, and community events in one place.
Plus since it's on the new Planner page, they can see their assigned tasks and personal to-do list as well.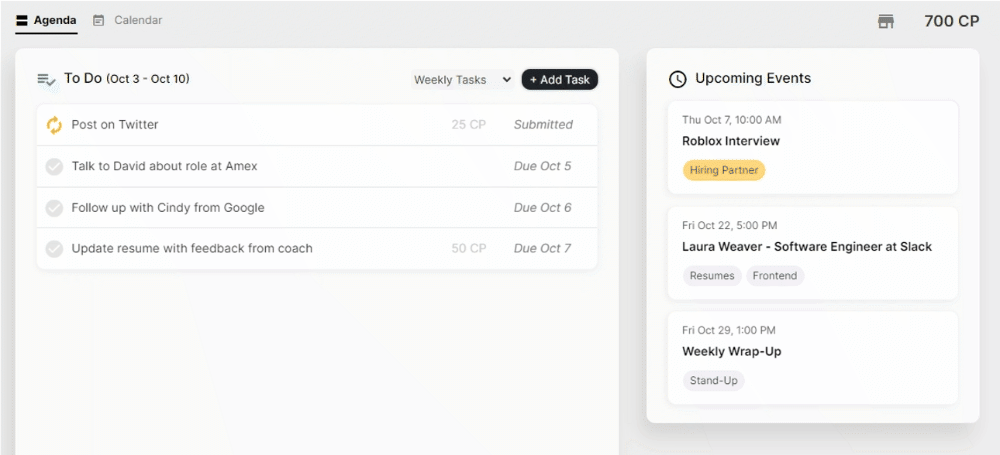 Weekly Summaries
Engaging job seekers is one of toughest things to do. With Weekly Summaries, your platform will lighten your load.
Every week, active job seekers get an email summarizing all the progress they made that week. This includes tasks, jobs applied to, and interviews. And if they didn't do anything, we send a supportive email to bring them back into the fold to get back on track or update their profile.
With our community launch next month, expect a daily and weekly digest option for alumni to stay in the loop.
Job Post Widget
Having a place for employers to post jobs is something many schools asked for. With our Job Post Widget, you can add a little Javascript snippet anywhere on your website where employers can quickly share jobs.
Employers and recruiters can enter their job information in the widget to share in your community's internal job board. If they don't have an account on your platform, this will also create an account for them and send them a welcome email.
Now, you can attract more employers to check out your grads with minimal upfront commitment.
Other cool stuff
There's a ton of other tweaks we made to the product. These include:
Refreshed home page for students to the planner page
New Community page which currently has an Events tab and a Jobs tab (more below on this)
You can charge employers for talent using Stripe in your platform
Customize your own store for students to spend points in (ex. Mock Interviews, swag)
Job seekers are emailed when you assign them tasks, add a job in their focus, and a few other times to help engage them
Tags feature to tag events, jobs, and (soon) posts
Coming next month...
Next month's big focus is our Community feature. Since 80% of jobs come from networking and many job seekers complain about loneliness, this will be the biggest part of our platform moving forward.
The Community, which includes Events and Jobs already, will allow alumni to:
Create posts to ask questions and share helpful resources with others
Earn points every time someone upvotes their resources
Find exactly the info they need by searching Tags or sorting content by most helpful
And (in December) connect older alumni for to recent alumni for mentorship
As if that isn't exciting enough, we will also be working on launching:
Easier ways to import student profiles through upload and potentially APIs
Zapier Integration for you to integrate with 1000+ apps and make your workflows faster
Smarter notification emails to get students actively helping each other
If you're not already on Prentus, make sure to schedule a demo with me (Rod). This will be the standard for career services very soon. Better to be early than late.
---