How was Q1?
Welcome to Q2. Hopefully your 2022 got started off strong with job offers spreading like wild fire.
With that you now have excited alumni you want to keep involved. This month's newsletter will help you do exactly that with:
Spaces to organize your groups and convos
Refreshed job board with better fields
Fresh reports to dive deep in the details
Read all about it below, watch the update to see it in action, or schedule a demo to make Q2 the quarter of job offers for your alumni.
Spaces for everyone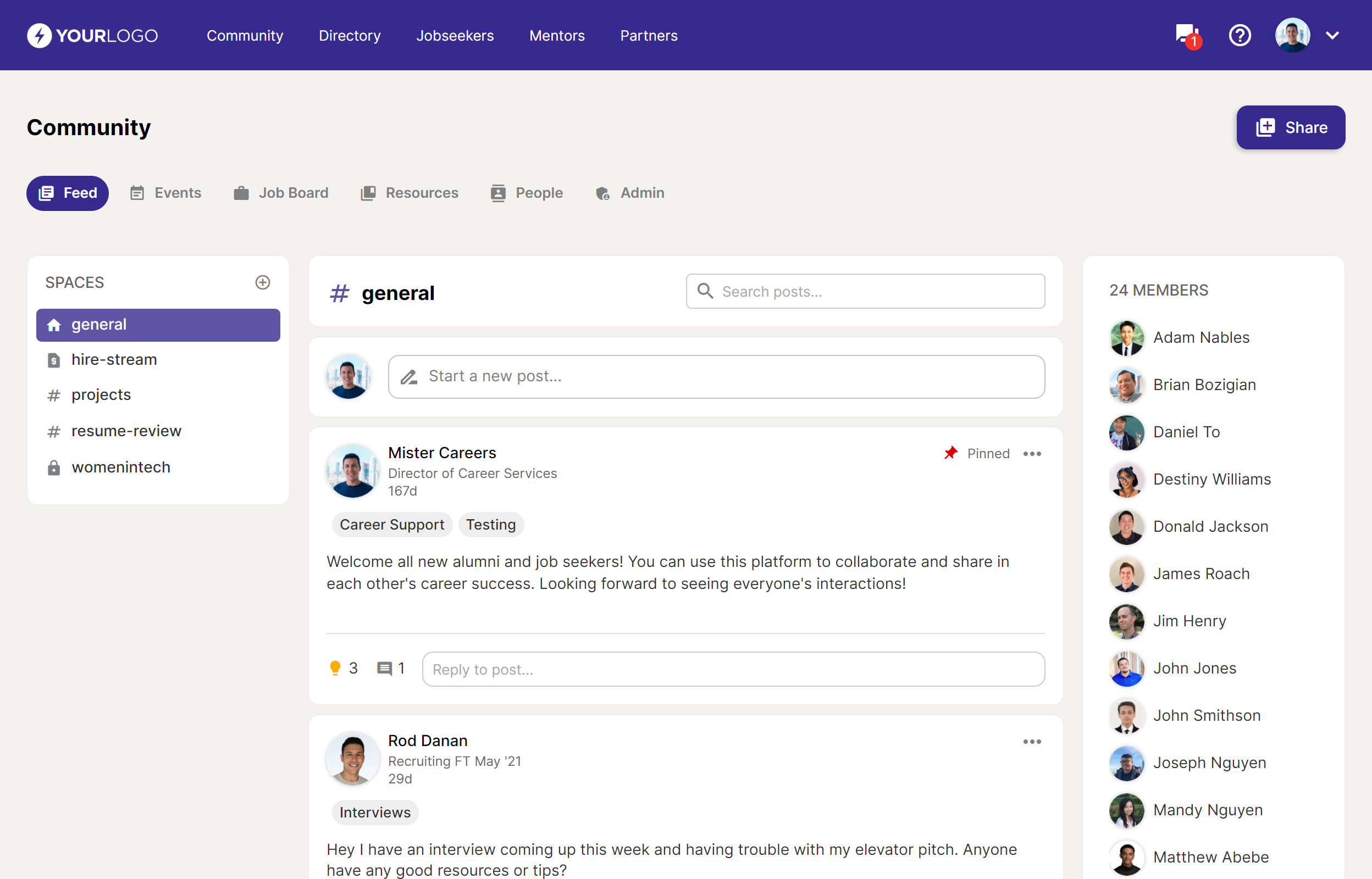 You shouldn't have to use Slack to organize your community. With Spaces, you can now create a safe space for any group or convo (similar to Channels).

Every community will have two spaces by default: general and hire-stream. General is for any convos that don't match a space. Hire Stream is a place that recently hired members can share the news plus a tip to help the next wave.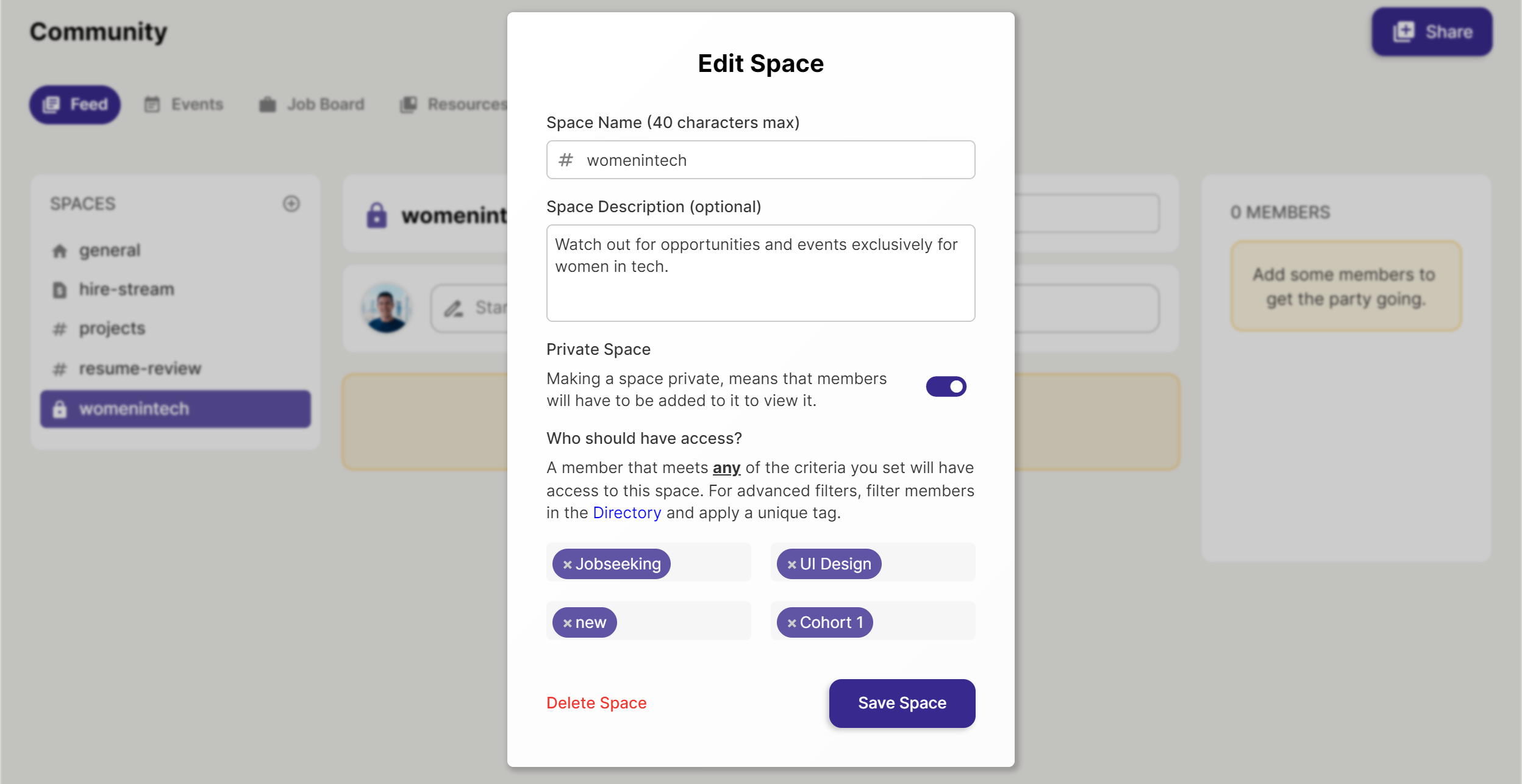 General and hire-stream are public spaces so everyone can see them. For something a little more exclusive, you can create Private spaces where you can restrict access based on tags, cohorts, career focus, or career status.
With integrations, Spaces, DMs, and no limits on members, you have everything you need for a thriving alumni community.
Jobs got a makeover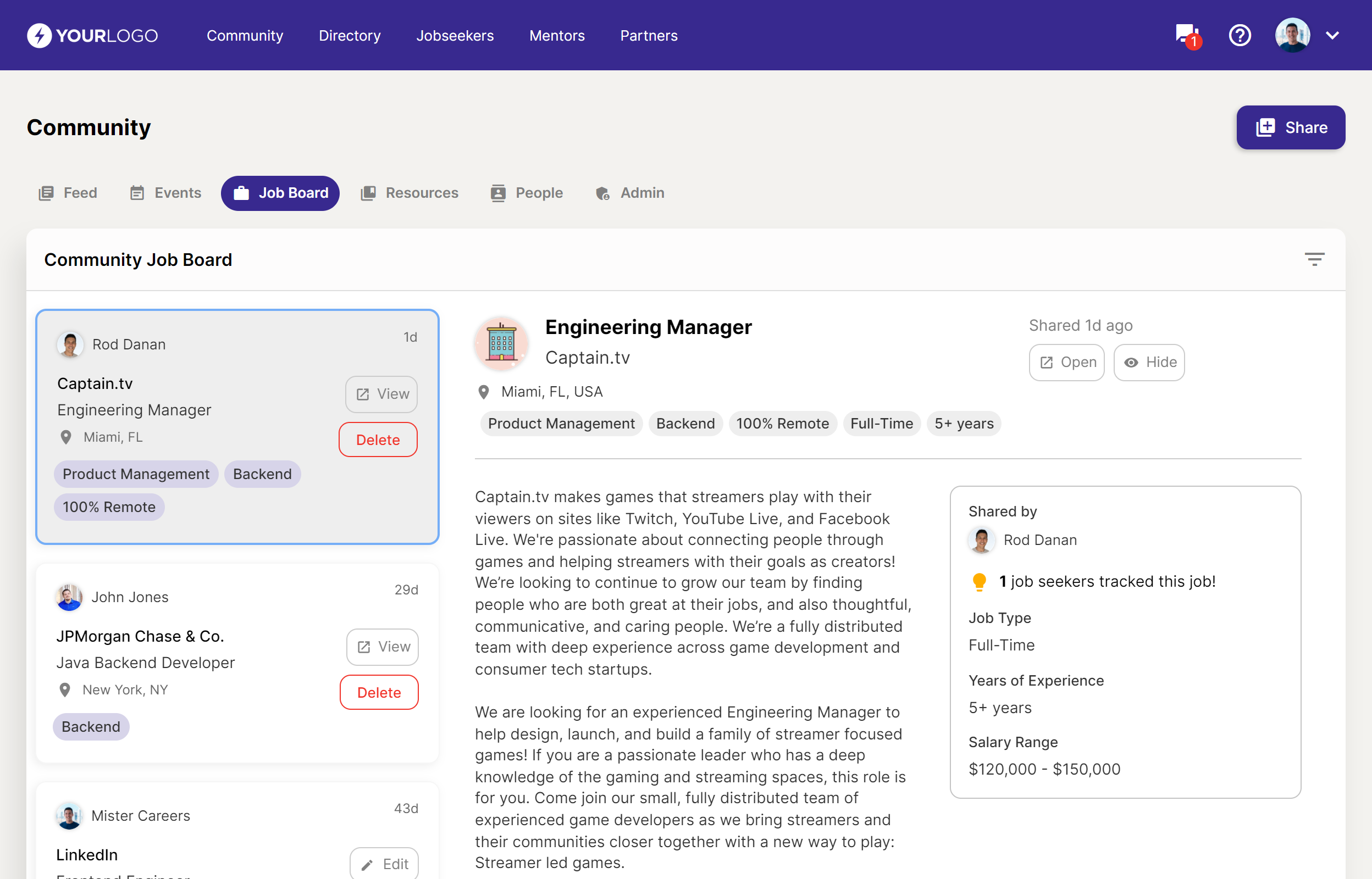 Previously, jobs were missing a few important details you needed. Now, Jobs can show the complete picture with fields for:
Type of job (ex. full-time, internship)
Salary Range
Description
Experience level
New fields meant that we had to refresh how jobs look in your job board too. The new Job Board has a cleaner experience that allows users to scroll listings on the left and view details on the right.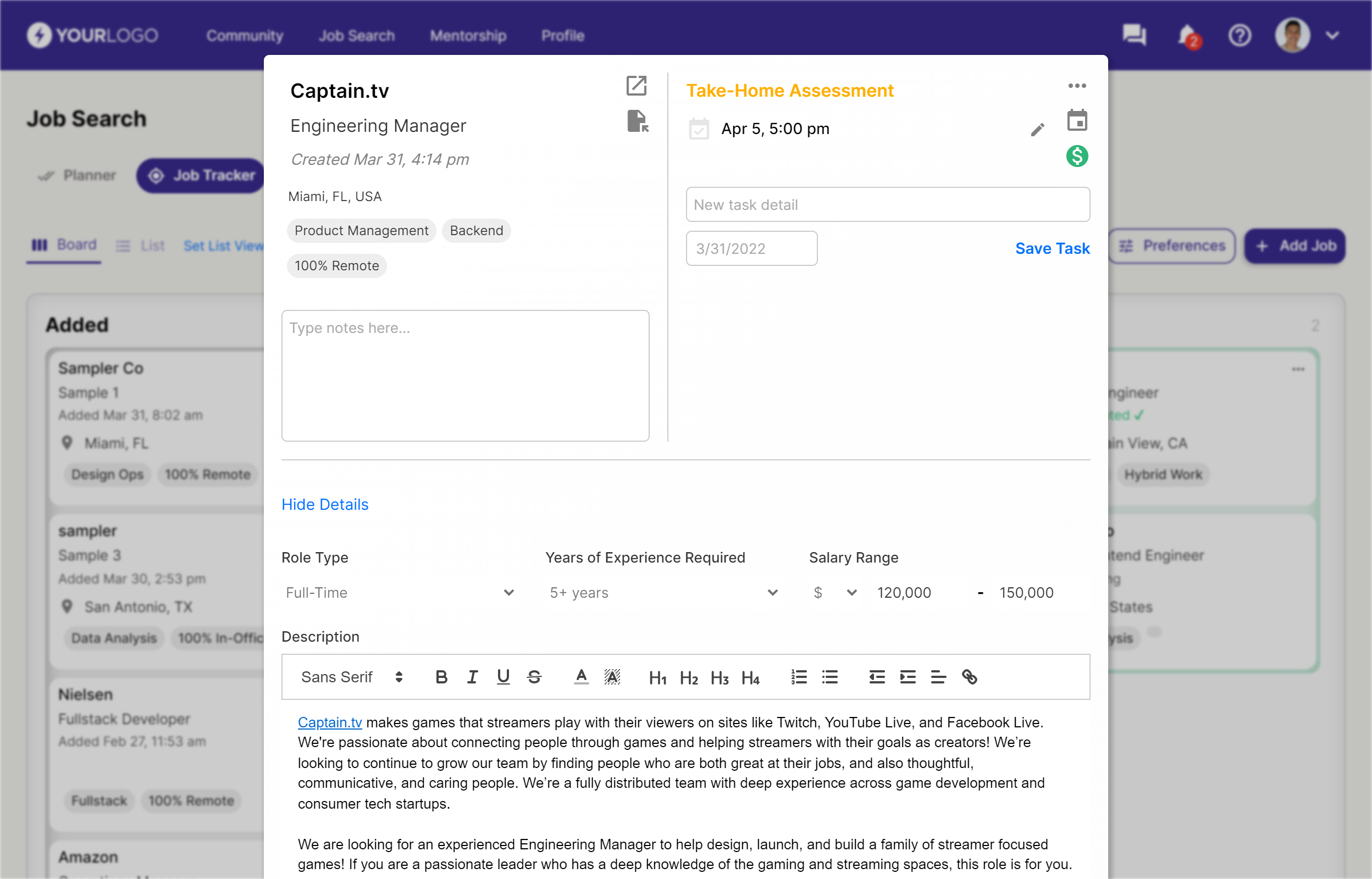 The Job Tracker has been updated with the new details as well. Jobseekers can now add and edit details on all the jobs they apply to in their search. Watch out for a Chrome Extension update with these fields in April.
NOTE: If you use our Job Widget, it has been adjusted to reflect the new fields. That means it is a bit larger now so might change how the embed looks. Double check any page you have it embedded on.
Interview Stages
In addition to the Job itself, interviews got a bit of a change. Instead of 1st, 2nd, or 3rd interview, job seekers can now choose between interview types. The new options are:
Take-home Assessment
Phone Interview
Behavioral Interview
Technical Interview
Interviews can now be edited in case times change or a last minute hiccup comes in the way.
Placement & Job Reports
Last month, we revamped how we track placements. This month, we made it easy for you to export that data yourself.
On the Directory, you can now select the profiles you want, click Export, and then choose Placement Data. This will generate placement details on any of the selected profiles that have placement info.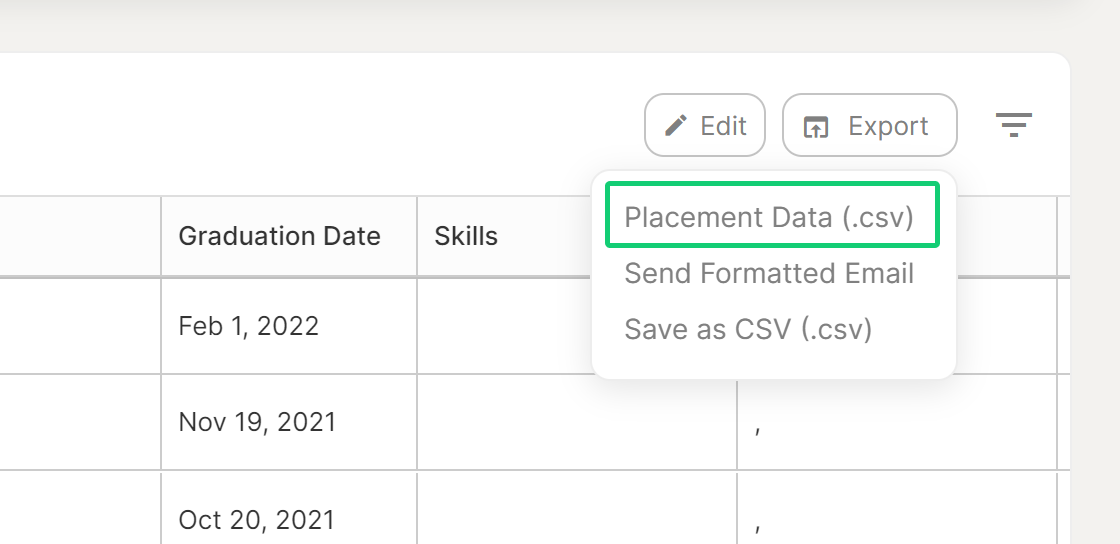 Jobseeker reports got a new addition with the Jobs Data report. This will show a row for every tracked job in the selected group. You will see current stage and every stage it was in before. Perfect for generating any additional reports you might need.
iOS & Android Beta
If you haven't downloaded our mobile apps yet, grab them at the links below to have the full community experience on the go. They work perfectly in their beta version and will be fully released some time in May.

If the link does not work for you, please reply to this email and we can add you manually to the beta test.
April Preview
Last month we spent a lot of time on our new home page which meant not as many flashy new features. Expect a bit more of that in April as we start shifting focus to fundraising so we can grow the team.
While they might not be launched this month, here are a few items we are working on in the background:
Customizable Directory: Edit your Directory columns to only view what you like.
Guides: There's so much value in Prentus and usually the only question is how to unlock it. We plan on writing 1 guide per week this month to give you strategy on using them.
Employer Recruit Page: This is a refreshed view for Employer Partners to manage shared jobs, schedule interviews, and view community events. This is part of a multi-month project.
If you have any requests, please reply and let us know. You will be pleasantly surprised at how fast we respond. Or schedule time with me so we can nerd out on placement stuff.
Have an amazing April!