Software engineer intern? For a startup? You might think it is crazy but it's not. Actually, it is exactly what your startup needs to succeed.
In 2020, every company is a software company. Many of the biggest tech giants, like Facebook and Google, started out with a simple software product. Their founders were coders that built the first versions.
What about after though? They hired great engineers, yes, but there were plenty of software engineer interns along the way.
Startups rely on interns due to their low cost, however, interns' energy is where the real value is. Someone that loves what they do so much, they will do it for free for a little? That's the energy an early tech startup needs to get going.
To understand the impact these engineers can have though, we must start at the root. Software.
The Impact of Software Engineers
Every website or tech device you use had a software developer involved. This means a majority of your day is made possible by software developers.
A typical software developer has a background in computer science, computer engineering, mathematics, or statistics. They can code using programming languages. They can debug problems that pop up in code. And they can troubleshoot their way out of most technical issues.
Their soft skills include analysis, teamwork, management, and communication. They can use these skill sets to build software, run databases, and manage web pages. Often, they work collaboratively with a scrum team to develop software and maintain software. In short, they do a lot.
Why a Software Engineer Intern?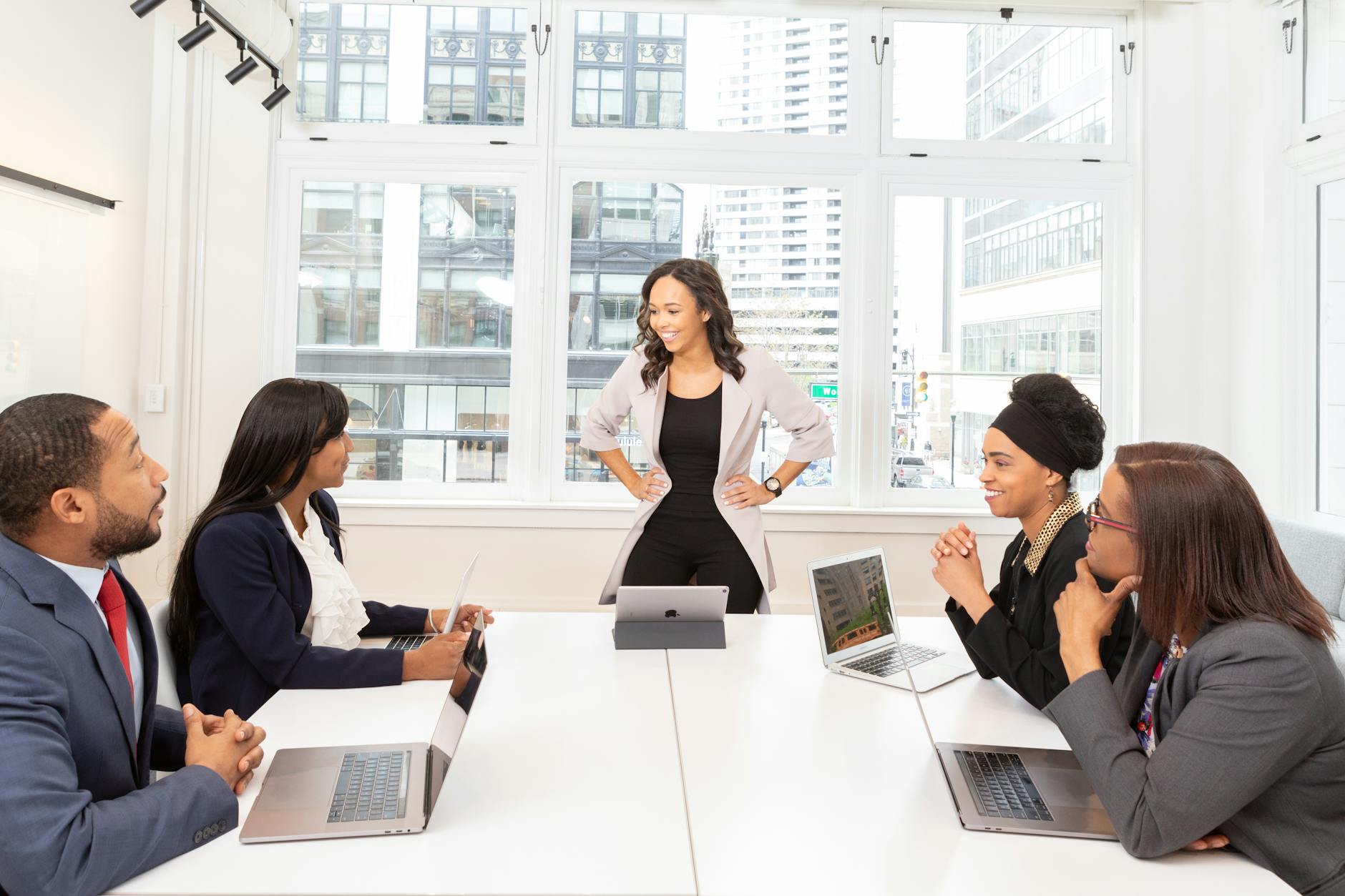 Okay, so software is important but why a software engineer intern over other options? Here a few reasons.
Early Help Before Funding
As a tech startup, you have to be conservative with your cash. This makes building a product that will change the world harder since you can't afford to hire full-time employees early on. That's where a web developer intern can help. Instead of waiting to have millions in revenue or funding, you can bring in an intern early on.
Interns can share the workload and ensure your employees don't suffer burnout. Hand over the more menial, straightforward tasks to new interns who are eager to learn and develop. If you build those features sooner, you will make money sooner.
Better Option than a Freelancer
A freelancer might seem safe since they have experience and projects under their belt. With that, however, comes high costs and scattered focus. Even a part-time web developer freelancer working at $30/hour will cost $7,000 over 3 months. Chances are your freelancer will be double the price and need even longer. Plus, they might have multiple projects going on which means your business doesn't get the focus it needs.
Bringing on a software engineer intern gives you more flexibility and someone dedicated to learn about your company. At Prentus, you can get a part-time intern for way cheaper than a freelancer. Saving your company money while helping to cultivate a career is a win.
Create a Talent Pipeline
Great talent is what makes a company great. The best of the best will be expensive though. Since a startup has to be lean to survive without sacrificing company culture, interns are perfect.
An internship allows you to see firsthand how that person works. Instead of guessing how a person will perform based on a couple of interviews, an internship gives you a more accurate assessment.
You also get to see how that engineer will fit with your team. Since you will spend many hours building a startup, you want to make sure you have the right people by your side. An internship shows you if that candidate is a pleasure to work with. And, if you decide to keep them, onboarding will be a breeze.
Discover Hidden Talent
An internship is a way for someone to get real-world experience. This means the best coder of tomorrow could be your next intern. During the internship, you will find out when you find someone great and be able to have first dibs at keeping them long-term. That way you don't have to get into a bidding war with the Facebooks of the world.
Learn through mentorship
During internships, it's not only interns that learn a lot. Employers who serve as mentors also gather a lot by helping others through the work process – from onboarding to the actual work process. Working with an intern is a give-and-take affair as the intern and employer both learn. It can also be an opportunity to assess the managerial leadership skills of your already-existing employees.
Where to Find a Developer Intern
Finding interns can be a full-time job in itself. Here are some ideas to help you find interns that best-suits your needs.
Connect with Colleges
Find a nearby college that runs a computer engineering program and connect with them. Other courses like computer science, mathematics, and statistics may have students who can deliver the goods.
Most colleges require students to have internships with companies to graduate. Because of this, they are incentivized to partner up with companies themselves. It's almost always a win-win situation for both the college and your startup. However, such partnerships may be difficult for early-stage startups with no track-record as colleges sometimes prefer their students to work with established brands.
Use Social Media
Who isn't on social media? At least half the world is. And that includes students who are looking for internship opportunities or hoping to start their career with early-stage startups.
And currently, there are a ton of social media sites out there: Facebook, Twitter, Instagram, and the like. Each of them has millions of users who you can engage in. The best thing about social media is that one connection can lead to several other links. You can also make sponsored posts to reach a broader audience.
Use LinkedIn
LinkedIn is one of the most effective business and employment-oriented apps. No wonder it has close to 700 million users from over 200 countries on the platform. Founded in December 2002, the platform has grown to become a toast of many employees and employers.
The platform has several helpful features, including LinkedIn live, LinkedIn groups, to help you create a buzz around your company. After creating a company page, you can put out a job post and invite applications.
The challenge with LinkedIn is that it is excellent for connecting with potential employees and hiring full-time employees. For interns, however, LinkedIn may not be the best. The service does not exclusively focus on interns, and you'll have to do some deep-dive to find interns for your new company.
Use Prentus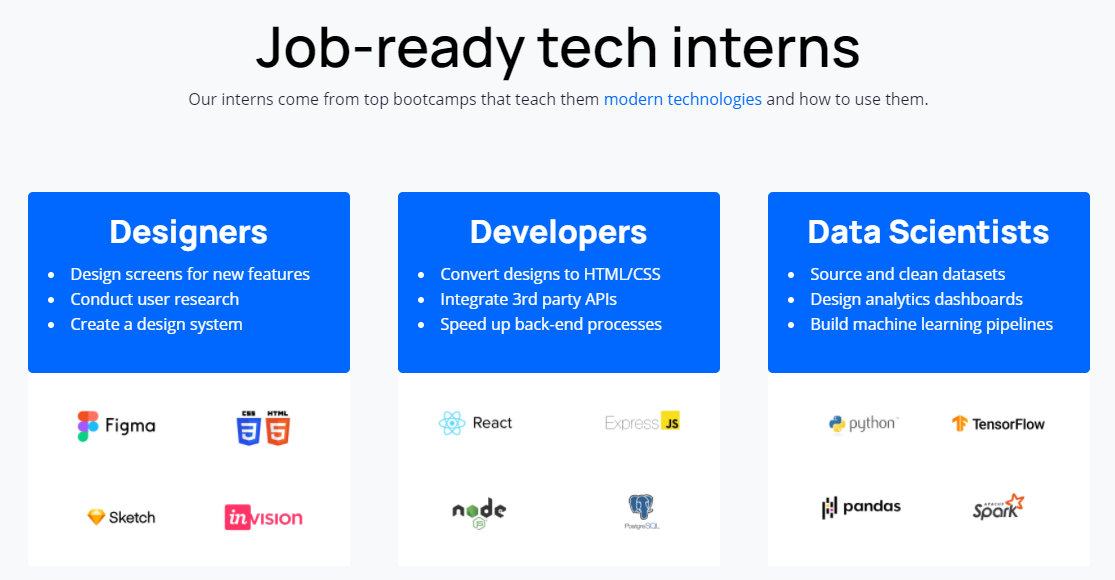 Here at Prentus, matching startups with the perfect intern is our business. Whether you want a web developer intern, a data science intern, or a UX designer intern, we got you.
Instead of job descriptions and job boards, you start by creating a profile on our platform. You get to see your best matches, add your availability, and then interviews are automatically scheduled. You can find an intern (or employee) in days not weeks.
If you are nervous about being able to handle an internship, don't be. We wrote the internship handbook on how to make the most of an internship. Plus, you get a dedicated success manager that can help with tips or a replacement in case your intern doesn't work out. For more info on the origin of the company, read the founding story.
What You Should Look For in An Intern
Technical Skills
A software engineer intern is no good to you if that person has no idea what a programming language is. An intern should be able to code a basic project in at least one programming language. Preferably, the language you are using for your product.
Beyond a language, some critical technical skills that a software engineer intern should be familiar with are:
Object-oriented design (OOD)
Software testing and debugging
Problem-solving and logical thinking
Some common skills you will see for web apps are Javascript, React.js, and Node.js. Mobile developers need to know Swift or React Native. And no matter who you hire, they need to know SQL or NoSQL for databases.
Teamwork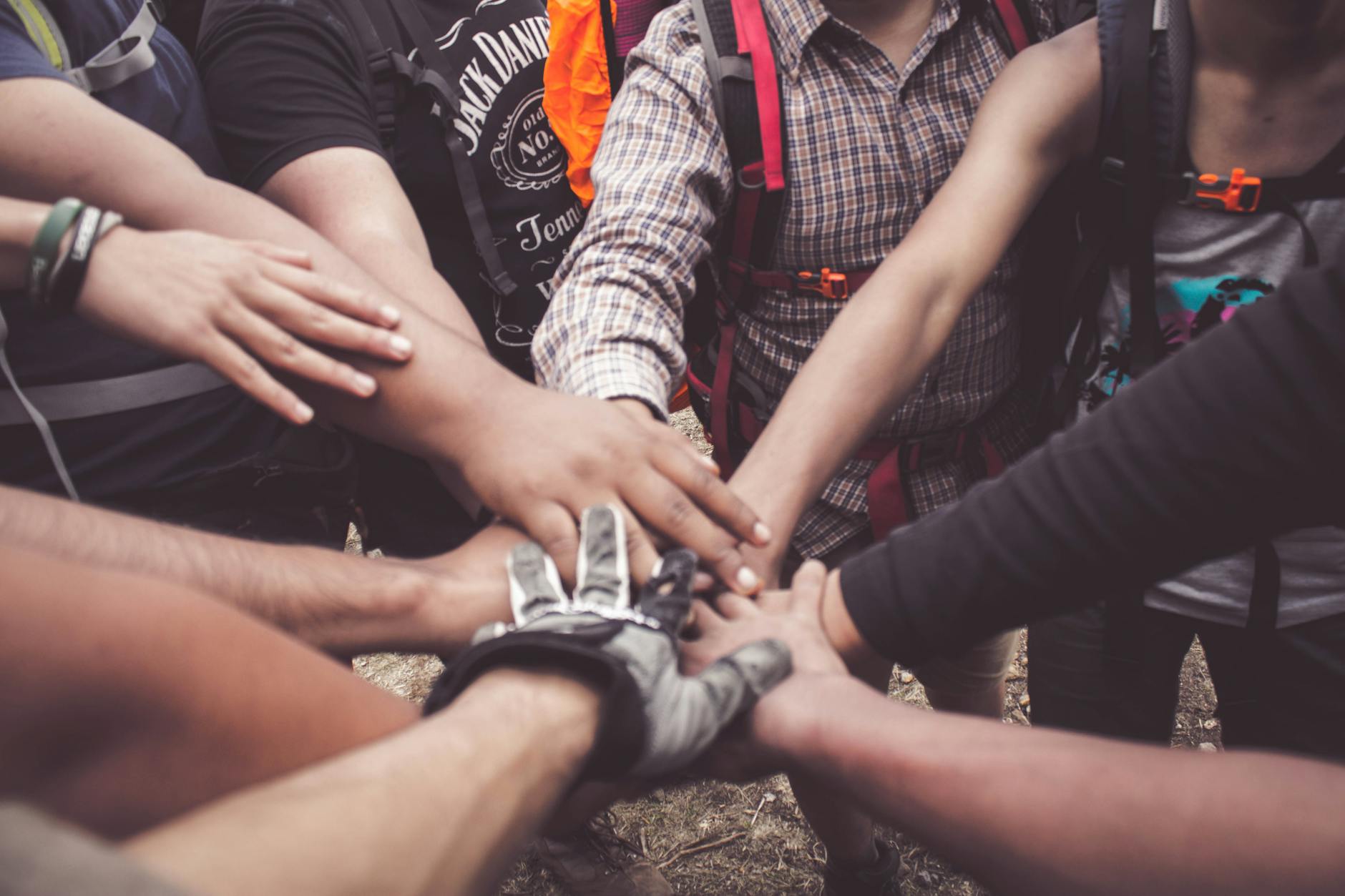 In hiring a software developer intern, don't hire the person that thinks they know everything. In your interview, find someone with a heart to learn, explore, and engage with the team they work with. The intern will need time to learn how your business operates in order to come up with ideas that can help you.
Patience
No software problem is going to be solved in a day. Often there are many iterations and tests before solutions are discovered. This might involves hours deep in Google searches. Focus on the software engineer intern that can calmly work through problems.
Creativity
What sets the top companies apart from the rest? The answer is simple: creativity and innovation. As long as you are in the same market, you are solving similar problems as your competitors. But the company that solves it best and more creatively is likely to win the heart of the clients. Creative software engineers can help you find innovative solutions that answer the pain-points of your clients.
Other skills that a good intern should have are the ability to take initiative, time management, critical thinking, research, and analysis, amongst others.
What next?
You should realize how important building great software is to a startup. The way to building great software is through investing in great people. Interns are a way to invest early and get the greatest return for your business. While you might think it's only for the biggest businesses, Prentus makes it accessible for everyone.
Regardless of whether you choose us or not, feel free to chat with us on our site. At the end of the day, we are a startup too, and want you to succeed.
---
Rod Danan is Founder & CEO of Prentus. He has built digital products before using software developers and learned what to look for in candidates. Feel free to email him at rod.danan@prentus.co with questions.