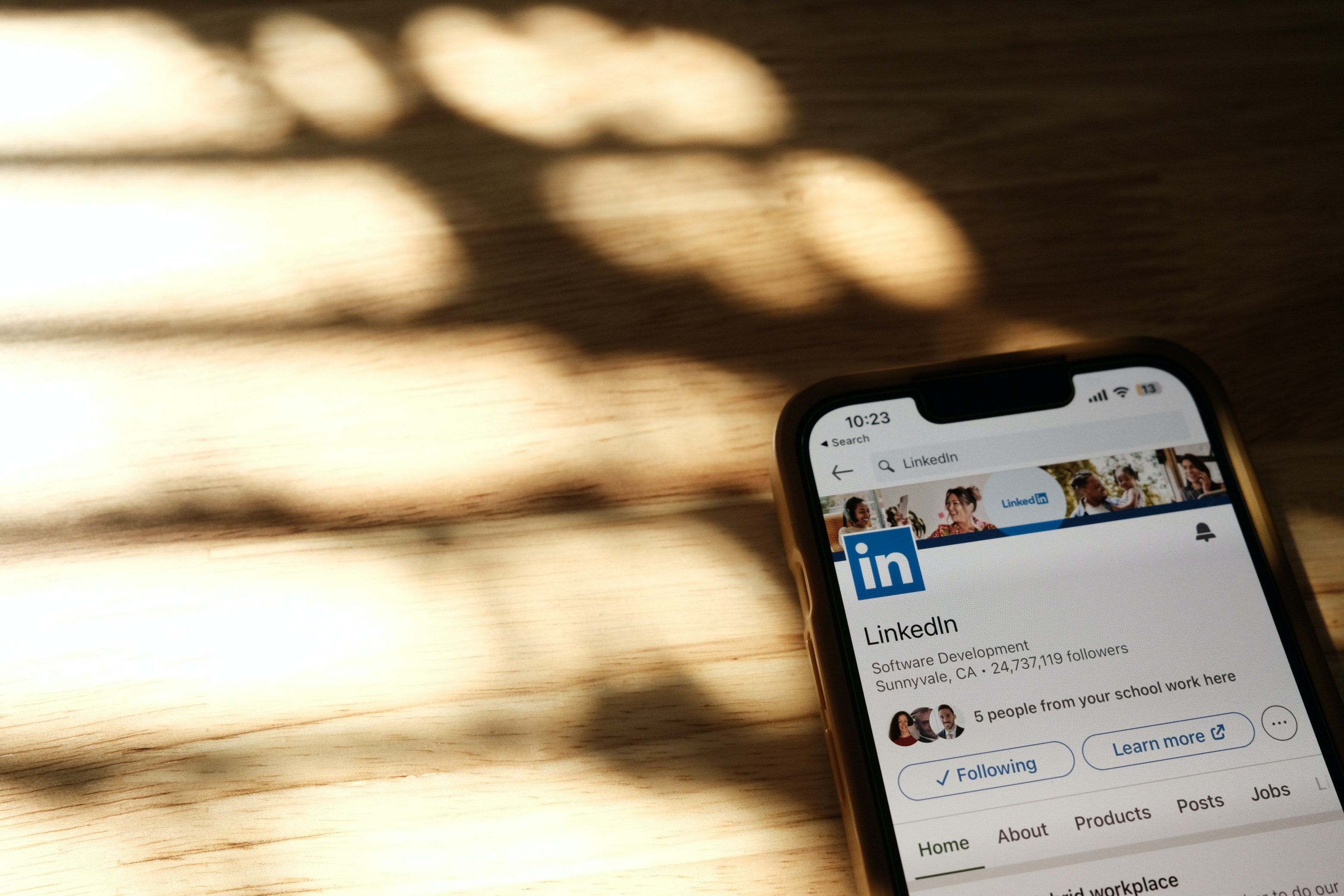 You just finished that bootcamp or Udemy course, preparing you for a new career in technology. Congratulations!

Though you've worked hard to develop a new skill, launch projects, collaborate with others, and learn the ins-and-outs of a new industry, the hard work has just begun.

Because now you have to talk about your professional history, relevant educational experiences, transferrable skills, and "elevator pitch" - and share all of these on a well-crafted LinkedIn profile.
LinkedIn Profile Basics
Adding a custom LinkedIn banner
Use Canva and take advantage of pre-saved templates, or check out free stock photography websites like Unsplash or Pexels.
You can use other profiles for inspiration, but whatever you do -- don't give up 30% of your real estate in the ATF section.
Use the banner to drive home your profession and skills using images (we process those like 4000x faster) Check out creators like Jasmin Alić for the best examples.
Taking your LinkedIn photo
This should not be a wedding photo, a crop from a party, or an image taken from 20 feet away. Using Portrait Mode on a phone, or a Photobooth feature on your computer, take a professional photo with good lighting. Focus only on the area just below your shoulders to just above your head for the best framing.
Make sure your profile is not Private if you are job searching! That will hide your photo.
If you're comfortable publicizing your search for your next role, you can add photo frames to indicate that you are currently #OpentoWork. This will place a small green sash on your Profile Photo everywhere your name appears on LinkedIn, alerting users to the fact that you're seeking a new job. To take advantage of this feature, simply click on your photo and select 'Add Frame'.
Optimizing your LinkedIn headline
The conventional wisdom about headlines suggests you only need your target title. But to really stand out to recruiters and to improve search term optimization, there's a helpful template to follow with examples below:
"Specific Role w/ background if needed | Unique Skill | Accolades (if any)"
B2B SaaS Product Designer | I design apps that feel like magic | Navy Seal

Software Engineer w/ Education Background | Crafting the future of #edtech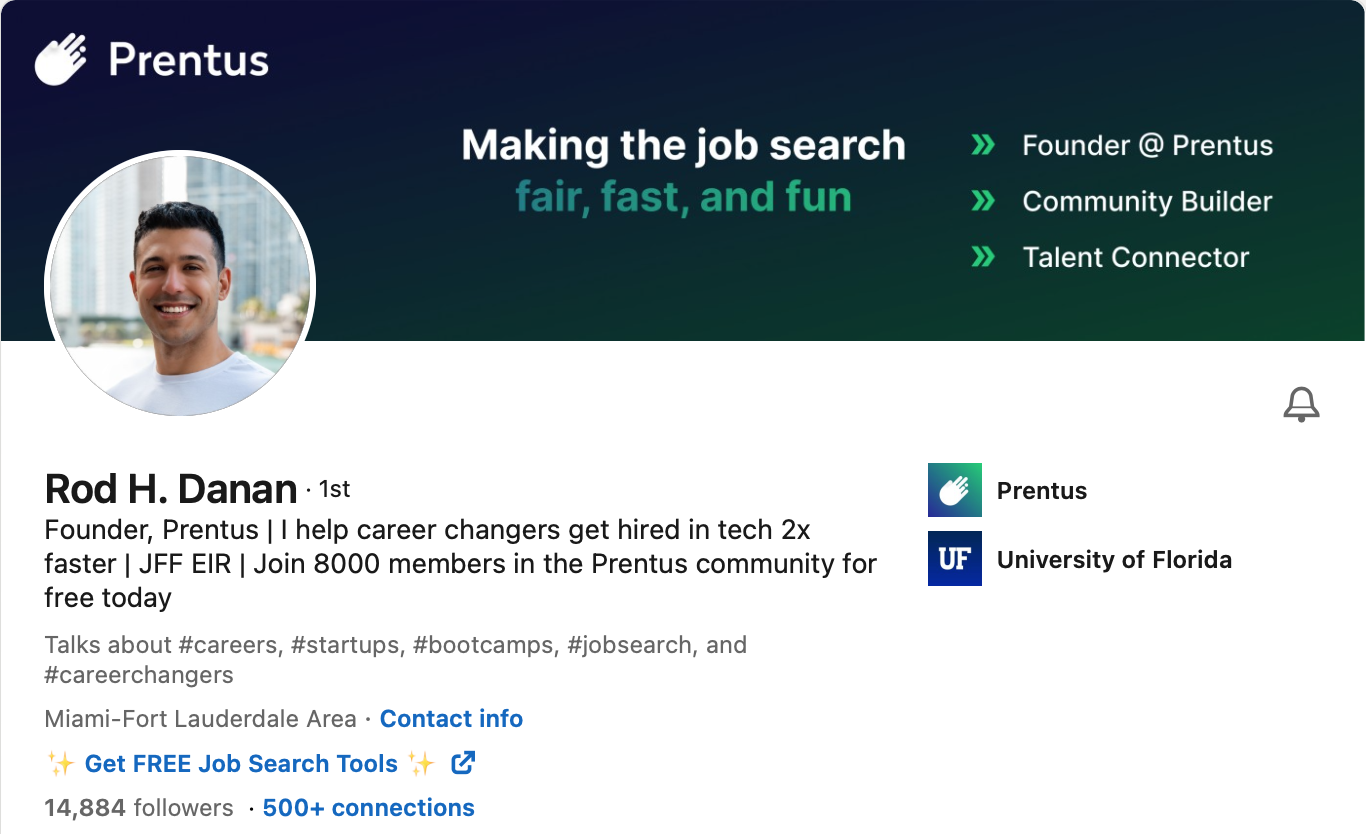 In addition to adding your name (and name pronunciation!) and pronouns, you can provide information that will allow recruiters to get in touch with you.
This can be in the form of an email address, phone number, and/or a professional website/portfolio. Of course, you can control security settings to make sure you're comfortable with what information is shown to which users. This is particularly important if you're sharing your birthday or other personally identifiable information. Never provide your SSN or Government ID information.
This is also where you input education experience. Here, you can select 'Open Profile' to allow any user to contact you for free. To add the "Talks About" feature in which you can showcase your area(s) of expertise, you'll need to enable Creator Mode.
This shows up on your profile as such:
"Talks about #digitalmarketing, #contentcreation, #socialmediastrategy"
"Talks about #engineering, #HTML, #mentorship"
LinkedIn Profile Best Practices
Writing Your 'About' section
The 'About' section on LinkedIn serves as an area to write and share your professional summary. Though you can certainly use what you have written on your resume Summary to inform this content, you can write more conversationally and take up much more space on LinkedIn.
Here's helpful formula to get you started:
I'm a Title…
[How do you take on projects in this field?
Are you familiar with specific systems, tools, languages, etc.?
How do you work - with others or by yourself - effectively?]
My background equipped me with…
[Transferable skills and abilities]
That I apply through…
[Where does your background come into play now? How does it help you?]
I'm currently seeking…
[Full time work in ABC Industry? Contracts? Volunteer opportunities?]
With…
[What kind of organization? What industry?]
BONUS: Additional Info AND/OR Call to action…
[What else do you want employers and connections to know? Why are you on the platform and what are you looking for? Work opportunities, mentorship, etc.?]
Here's an example:
Hello! I'm Amira, a Software Developer with a background in Customer Service and hospitality. I bring a human-first approach to problem solving, and enjoy breaking layered challenges down into actionable steps. I'm also a marathoner and mother - so I know a thing or two about the power of persistence, patience AND positivity.

My professional experiences enabled me collaborate across teams, communicate with stakeholders and customers, quickly identify root issues, and present/implement potential fixes. I apply these skills, along with HTML, Java, and C++ proficiency to deliver exceptional Front-End Development services. I'm currently seeking junior roles with remote technology teams and would love to connect with other folks transitioning into tech. Let's connect!
Your LinkedIn Experience listings
Your 'Experience' section on LinkedIn is where you discuss your work history. Unlike a resume, which typically needs to be 1 - 2 pages in length, you have more room on LinkedIn to elaborate, connect projects and media, and showcase skills used on the job.
To get started, copy and paste what you have written on your Applicant-Tracking System friendly resume. You may choose to add more information about your projects and daily tasks, impact (do you have metrics to showcase your performance? Perhaps your organization measured customers served, satisfaction ratings, return on investment, sales close rates, etc.?), communication experiences, and technical abilities.
LinkedIn also allows you to attach relevant Media and Skills to your listings. This is a great place to showcase special projects related to the role(s) you're targeting now. Did you help with an Excel inventory project while working in retail? Share details and Media (LI supports images, documents, sites, and presentations) to showcase what you built. You can also tag your Excel, Data Management, Project Management, and SQL Skills to showcase the practical expertise used on-the-job.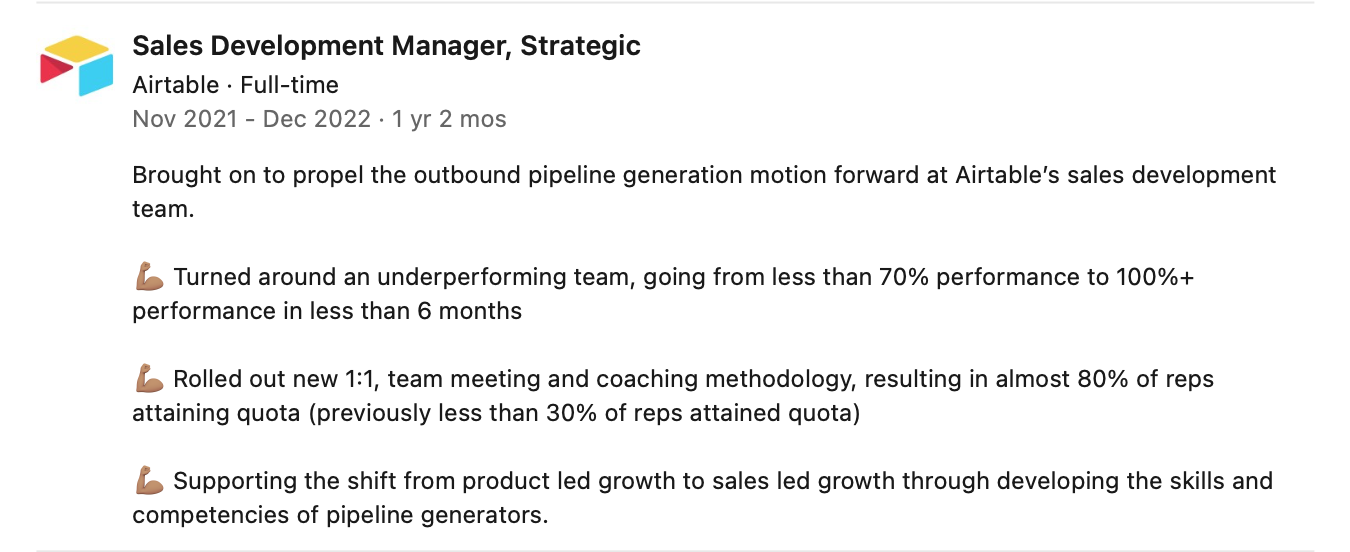 Writing your LinkedIn Featured Section
Placed right near the top of your profile is your Featured section. This is a place to showcase images, documents, external links, newsletters, and posts you've made on the platform.
Many folks will use this space to share a "designed" or branded version of their resume, with an emphasis on more visual appeal versus Applicant Tracking System friendliness. You can add your Certification confirmation here, or screenshots from a project you assisted with.
This is also a great space to link to articles you've written, websites or apps you've worked on, or events you may have coming up. You can pin Posts you've shared on LinkedIn, too.
Because this takes up so much real estate near the top of the page, it's recommended that you use this space to only share your achievements, accomplishments, or information that demonstrates your skill and subject matter expertise.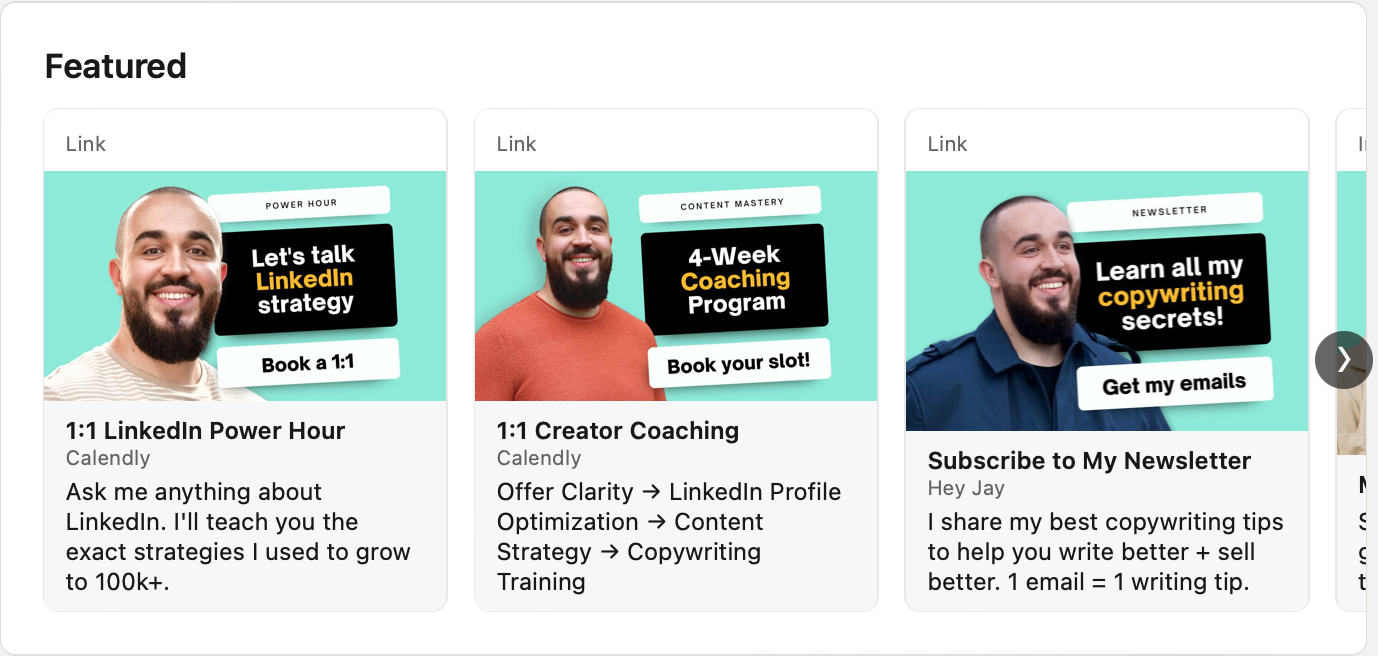 LinkedIn Skills
LinkedIn allows users to feature up to 50 of their top skills. These are broken down by category: Interpersonal Skills, Industry Knowledge, and Tools & Technologies.
To get a sense for the types of Skills you should incorporate - it's helpful to look at those featured on Job Descriptions that you're applying to. You can also check out the Skills section of another user who has a career you'd like to mode your own after. Other users can 'Endorse' these skills, confirming or "vouching" for your abilities.
If you're transitioning form one field into another, it's important to revisit these transferrable skills and add those that will be relevant to your new line of work. You can select areas on your profile (Experience, Education, Projects, etc.) where these skills were used.
You can take Skill Assessments, short 15-question multiple choice quizzes designed to assess your technical expertise on a certain topic. If you score in the top 30%, you'll earn a public-facing skill badge for your profile. Though these can be helpful in demonstrating your knowledge, remember that LinkedIn editors write these internally and that there is no formal review board or certification program confirming the rigor or accuracy of the questions.
LinkedIn is currently Beta Testing a tool for "Demonstrating transferrable skills" - particularly important for those who are changing careers. More on this as the tool develops.
Remember: Recruiters on LinkedIn can see if you're a fit for a role that you've applied to on the platform by matching your listed Skills with role requirements - so make sure you're selecting frequently listed terms for your profile.
Recommendations on LinkedIn
LinkedIn users can 'recommend' one another, providing detailed testimonials/references about their experience working with you. These are super helpful ways to demonstrate your 'soft skills' in action, as they allow recruiters to get a sense for your communication and collaboration style.
You can ask former managers, direct reports, classmates or teammates, colleagues, and collaborators to write a recommendation for you. LinkedIn walks you through the asking process, sending a formal request to the recipient that you'd like to be recommended by. But It's always a good practice to let them know via DM, email, text, or phone call that you'll be asking for a recommendation. If they need direction, let them know what you would like them to highlight (a skill they saw in action? a specific task you handled together? an overall, honest impression of your strengths?) and always offer to write one in exchange.
You can write a recommendation for someone else by navigating to their profile, clicking 'More' in header section, and then selecting "Recommend".
Though your resume, cover letter, and networking strategies will help you immensely in the job search - no other platform allows you to connect directly with others, find resources, share ideas, source jobs, and share your professional history as effectively as LinkedIn. Building a thorough and authentic profile is key in making sure recruiters get to know the real you. We'll be sharing more about LinkedIn for job seekers in future articles, so check back with us soon!
Join weekly Job Search Office Hours with the Prentus team to learn more about LinkedIn profile optimization, networking best practices, and job search tools. Click here to sign up for free.